The Ultimate Guide to Climbing Adam's Peak aka Sri Pada
There is probably no peak in Sri Lanka more revered than Sri Pada or Adam's Peak (7362 ft/2250m), Sri Lankan pronounce it as "Sri Pðəda". It is considered holy by at least three religions: Buddhism, Christianity, and Hinduism. The mountain is represented by a huge dip on the top that resembles a "foot," which is significant to all three faiths.
The trail is bordered by the Peak Wilderness Sanctuary, one of Sri Lanka's highest protected forest reserves. And it takes around three and a half hours to climb (the trail is paved with steps). The views from the summit are breathtaking, particularly early in the morning when the warmth of dawn illuminates the countryside in an unending panorama of rainforests, valleys, mountains, and water.
From December to April, pilgrims begin their ascent soon after midnight and reach the peak at dawn. Climbs during the day are possible all year, but occasional rain and mist are to be anticipated.
Adam's Peak, Sri Lanka: A Brief History
Sri Pada (104-76 BC) is said to have found Sri Pada while in exile in the mountain wilderness (dubbed "Sri Pada Adaviya") to escape the raiding Cholians. A god in the form of a deer has guided King Valagambahu to the mountain's top. Since its discovery, both ordinary people and royalty have begun to respect the Buddha's Footprint. Later, the Sinhalese monarchs made the summit accessible to worshippers who climbed the mountain annually.
According to Professor Senarath Paranavitana, a pioneering archeologist and epigraphist from Sri Lanka, the worship of the Footprint on Adam's Peak first appeared in chronicles and inscriptions during the reign of Vijayabahu (1065-1119 AD). It is said that, after seeing the hardships endured by pilgrims on their journey to venerate Buddha's footprint atop Samanthakuta, the king devoted the hamlet known as' Gilimale 'to catering to their needs. Stone inscriptions of Vijayabahu have been discovered in Gilimale and Ambagamuwa, verifying the chronicle's assertion.
Sir Arthur Charles Clarke, the world-famous science-fiction writer, science writer, and futurist, made a thinly veiled reference to Adam's Peak (as Sri Kanda, a higher version of the actual Mount Sri Paada) in his award-winning novel, The Fountain of Paradise. When Sir Arthur C. Clarke wrote the novel, he had lived in Sri Lanka for almost twenty years, so he set his novel on an island that corresponded to 90 percent of it.
The Sacred Journey to Adam's Peak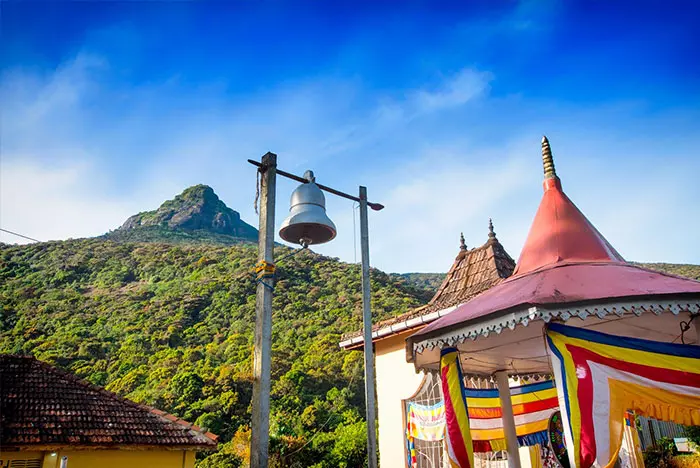 Every year, about 20,000 pilgrims of varying ages, fitness levels, and religious views attempt to scale Adam's Peak in search of moral and spiritual meaning.
The classic hike begins in the middle of the night to reach the summit in time for a spectacular Adam's Peak sunrise! Sri Pada is a significant pilgrimage destination for Sri Lankans. However, the theological importance of Adam's Peak varies considerably depending on who you ask:

Buddhists believe the imprint represents Buddha's left foot. Hindus believe that the footprint belongs to Lord Shiva. According to Christians, it was Adam's first walk after being banished from the Garden of Eden.
Adam's Peak and Deity Sumana Saman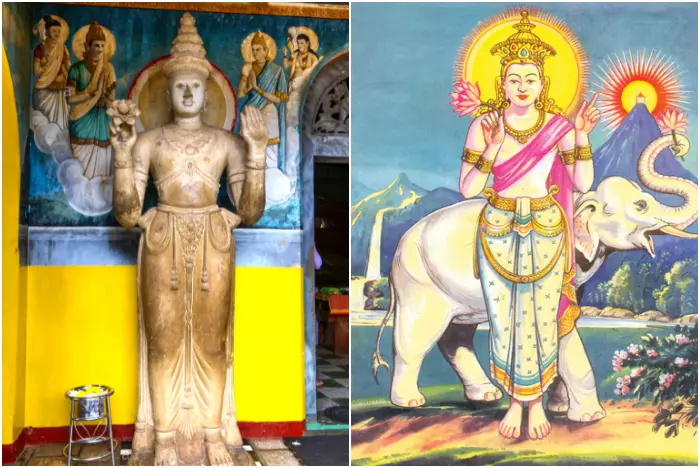 When discussing Adam's Peak, we must also mention the deity Sumana Saman. According to the locals and Buddhists, Saman is the patron god (guardian deity) of Sabaragamuwa and the Sri Pada mountains. Sumana Saman Deviyo, according to legend, invited Buddha to Adam's Peak. Gautama Buddha imprinted his footprint at the request of Sumana Saman on the rock at the summit of the mountain as a token of symbolic worship. The God Sumana Saman is also regarded as a benign guardian by Buddhist worshippers who climb the summit.
The Hike to Adam's Peak
As you make your way up to Adam's Peak steps, you'll see people making their way down. And you'll discover that many pilgrims choose to climb during the day and spend the night camping at the summit, awaiting the ritual of Adam's Peak dawn.
That night may be particularly uncomfortable, leading many to think that the magnificent Adam's Peak dawn, usually given to climbers at the summit, will not be photographed.
The route to Adam's Peak is illuminated at night. You might feel a little silly for muttering so loudly. And that's because this might be another trek, another difficult exercise to push yourself and test your physical limitations. On the other hand, climbing Adam's Peak in Sri Lanka is a profoundly spiritual experience that gives people great pleasure and enlightenment despite the soreness. In some ways, you may be envious of the deeper significance that night will provide.
Remember to Have a Hot Cup of Tea or Local Snack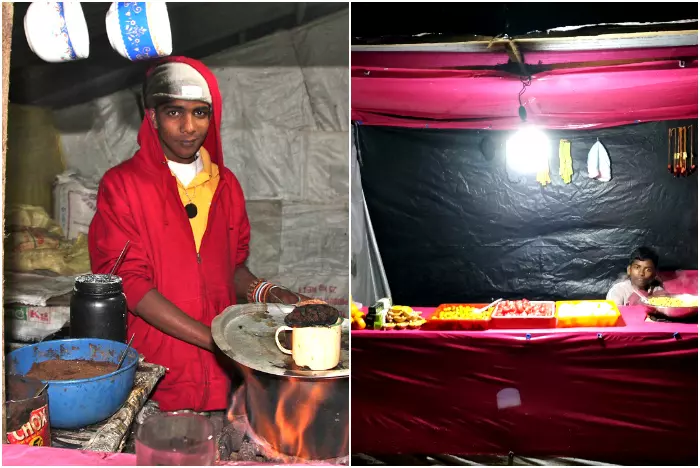 Would you want to take a break for a cup of tea? Yes, There are plenty of rest areas with a few tea and snack stalls. And you will need it to get some energy. Two tiny booths within the improvised tent provide hot tea and coffee. You may also pick up some food or a cap and gloves. Climbers often rest their feet on a few seats positioned along the wall.
The tea will be delicious, as will all of the tea you will taste in Sri Lanka. It instantly warmed your insides and will be just what you need to get you through the last 1500 stairs to the summit.
The Top of Adam's Peak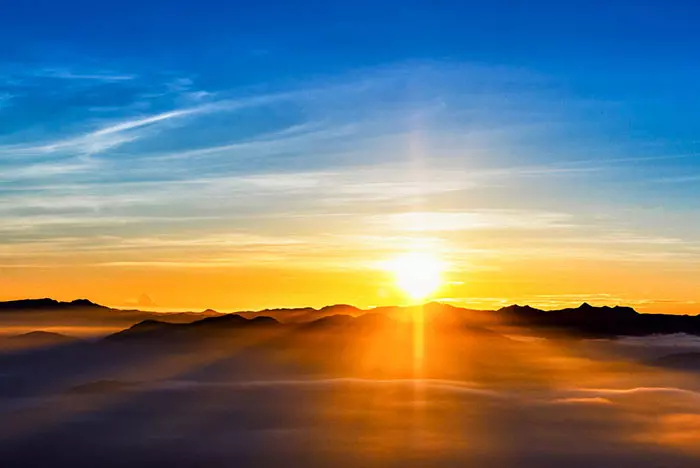 As you approach the peak of Sri Pada in Sri Lanka, you will see a crowd gathering around the perimeter of the structures that surround the summit. Everyone turned to face the dark abyss.
The sun rises, and, as if on cue, the weather atop Adam's Peak improves. The rain will stop, and the clouds will separate, revealing a rich blue color all around you. The yellow lights on the buildings will shine in the middle of the blue colors, creating a fairytale-like atmosphere. The sigh will astound and somewhat hypnotize you.
The Famous Bell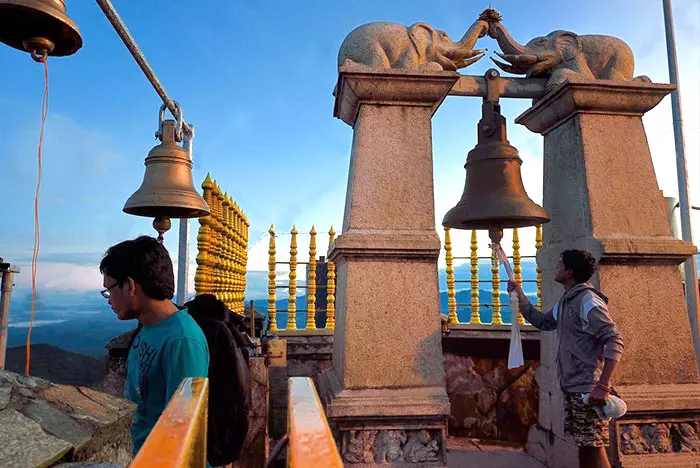 When you reach the summit, you are expected to ring a bell, which many climbers do. The bell will be at the platform's far end, where a group will usually be there.
The melody will remind you of a snake charmer's song, but it will be mixed with the religiosity that surrounds you. It will have a far more lasting impact. And that will be the time when the soreness of the previous four hours becomes worthwhile.
When you reach the summit, you are expected to ring a bell, which many climbers do. The bell will be at the platform's far end, where a group will usually be there.
The dawn will be breathtaking; it will be more lovely than you could have ever imagined. The sky will brighten up, and it will be daylight in a matter of minutes. The clouds will linger high above the summits, allowing you to see for hundreds of kilometers.
Descending Adam's Peak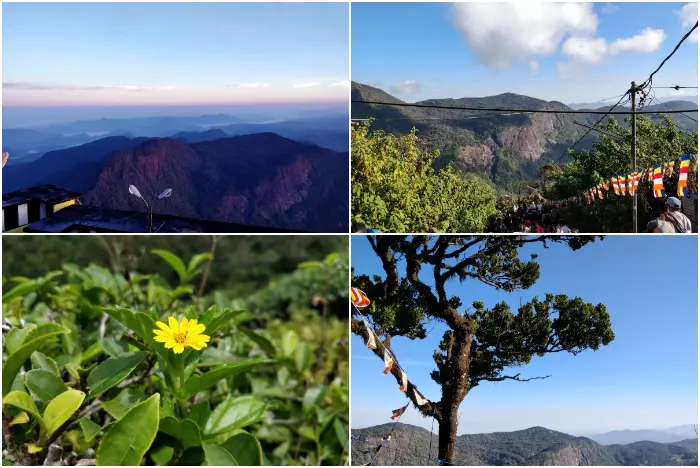 The descent may be equally as difficult as the ascent. Your legs may feel like after a gym workout by the time you reach the top. And your calves may scream in soreness, but there are still 5500 steps to go before you reach the bottom.
On the other hand, it will be light out this time, and the magnificent vistas from Adam's Peak, Sri Lanka, will make the trip much more enjoyable!
The descent would take much less time than the ascent. You'll be back in Dalhousie in 1.5-2 hours, possibly with your new buddy, the friendly local dog, racing down beside you for the bulk of the way. Their devotion will win them breakfast at the café at the base of the mountain.
Adam's Peak Is an Exciting and Adventurous Hike
Suppose you like hiking and challenging yourself physically, intellectually, or spiritually. In that case, a trek to Adam's Peak in Sri Lanka will most likely be the highlight of your vacation to Sri Lanka. But if you aren't, think carefully before embarking on this adventure. And if you do, be prepared to pay for it.
If there is one piece of advice we can offer you about attempting an Adam's Peak climb, it is this: Plan your trip to Adam's Peak AFTER you have completed all of the other climbs. Your body will appreciate it.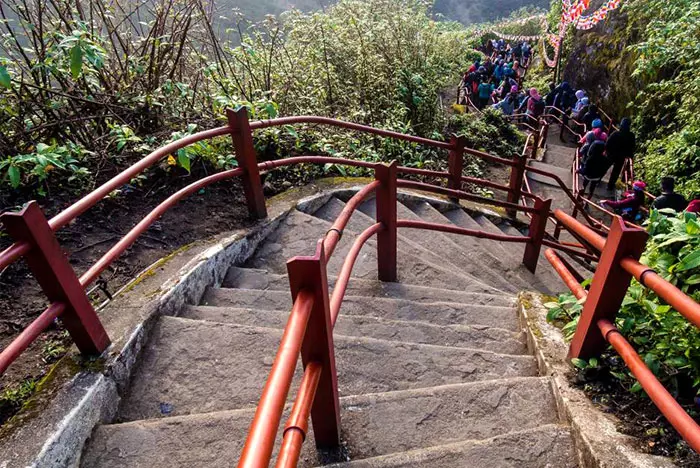 Important Travel Tips for Climbing Adam's Peak
What to Expect When Traveling to Sri Pada, Sri Lanka
Hiking in Sri Lanka seems to follow a few trends. Most visitors arrive at the trailhead at about 2:30 a.m. to begin their climb to the top in time for an Adam's Peak sunrise. The trek typically takes between 3 and 6 hours. Most hikers then opt to descend at about 5:30/6:00 a.m., arriving in the hamlet around 8 a.m.
The path nearly to the summit of Adam's Peak is lined with tea shops and snack booths, and some restrooms may be used for a few rupees.
As the staircase becomes narrower towards the top, there may be a bit of congestion.
Visitors are required to remove their shoes before entering the monastery at the top of Adam's Peak. The sacred Adam's Peak footprint is housed inside the monastery in a tiny shrine. Foreigners and pilgrims are welcome to visit the temple to see the footprint (which is covered by a blanket) or make offerings.
When Should You Visit Sri Pada?
Adam's Peak's pilgrimage season begins in December and lasts through March/April. When the weather is nice, December and January are the busiest months on the route. Because the days are hot and dry, ascending before dawn makes the journey more bearable.
The Best Way to Get to Adam's Peak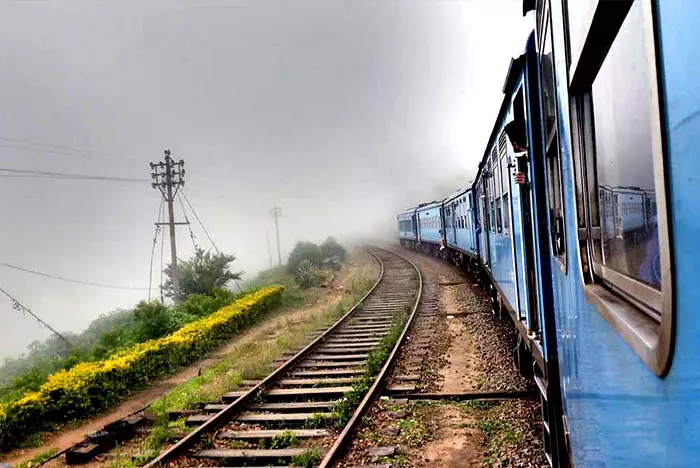 The Adam's Peak route begins in the hamlet of Nallathanniya (sometimes referred to as Dalhousie or Delhousie,) approximately 30 kilometers from Hatton in Sri Lanka's Central Province.
Taking a train to Hatton is the most convenient way to travel to Nallathanniya. It's approximately a 3-hour drive from Kandy or a 1.5-hour drive from Nuwara Eliya, depending on which way you're going.
Tickets may be purchased either online or at the station. The trains are divided into three classes, and only first-class berths may be booked
First-class tickets may be brought up to 30 days in advance of your departure date. You may purchase tickets online ahead of time and pick them up at the railway station on the day of your departure. To pick up the tickets, you must have your reservation number and passport prepared. Keep in mind that first-class tickets tend to sell out quickly during peak seasons and on popular routes.
Additional Information About the Train Journey
Due to a lack of seats in second and third class, travelers are usually made to stand. It is often determined by the time of day you are going, the route's popularity, whether you are boarding the train mid-trip or at the first stop, and if you will have to stand. Most individuals will ask other passengers when they will be disembarking to get a seat.
Second-class bookings may also be made in advance, although they are seldom necessary. Generally, seats in the second or third class are always available shortly before departure. If you're concerned, go to the station early or early in the morning before your journey, since tickets for these classes can only be bought at the station on the day of your departure.
The difference between second and third-class slots is minimal. Second-class seats are usually more comfortable, with a fold-down tray in front. Likewise, the third class has built benches for sharing.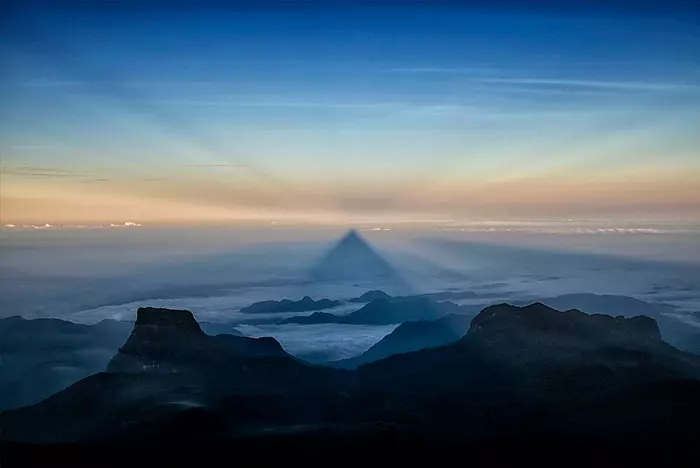 Where Can You Stay in Nallathanniya?
The majority of visitors to Nallathanniya stay for little more than one night. Aside from Adam's Peak, there isn't much to see or do in the nearby vicinity. We suggest coming the day before your trip if you are short on time. Go to bed early, hike Adam's Peak, then return for a rest and breakfast before checking out at about 11 a.m.
Nallathanniya has various Adam's Peak hotels and lodging choices, ranging from luxurious hotels to modest guesthouses. Breakfast is often included in room prices. Booking ahead of time is not required, although it is encouraged, particularly during peak season.
Visit Adam's Peak
It's a good idea to visit Adam's Peak with a local travel operator, and this is where we come in handy. We take care of everything, from comfortable accommodation to transportation. And our knowledgeable and experienced guide will tell you fascinating historical stories. So, your heart now encourages you to "climb Adam's Peak!" Yes, go ahead and do it. We can make it all a pleasant experience for you.
Other Things to Do Near Adam's Peak
Before or after the hiking adventure, you can visit a few other beautiful places around Adam's Peak, including: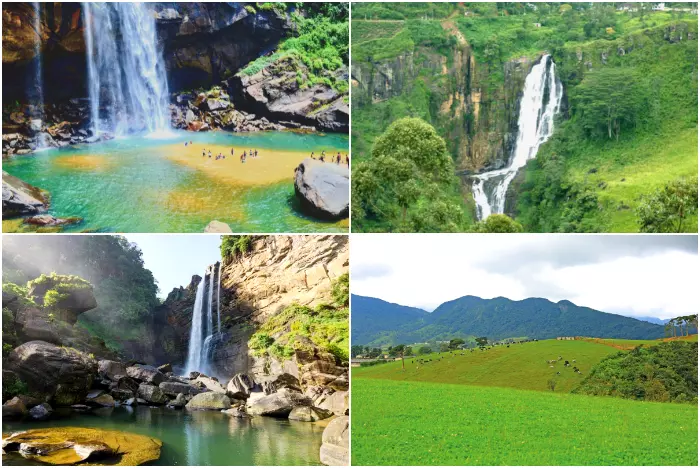 1 Visit Laxapana Falls 2 Gemmological Museum 3 Mlesna Tea Castle 4 Devon Falls 5 Aberdeen Falls 6 Olu Ella 7 Ambewela Farms 8 Kotmale Dam 9 Bambarakanda Falls
What is Little Adam's Peak at Ella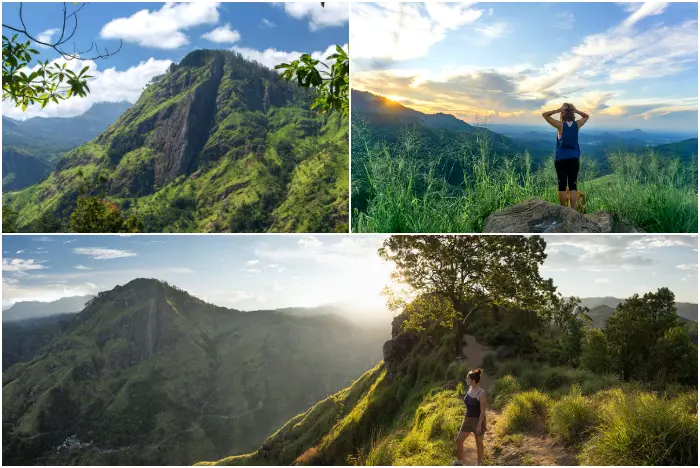 Little Adam's Peak is extremely similar to Adam's Peak in nature, and it acquired its name from the locals who kept calling it that. The mountain's summit may view the lower plains around Uva and the Northern and Southern Provinces. This mountain is located 2 kilometers from Ella Namunukula Road, and many international and local visitors like to walk and trail along with it. The summit is easily climbed, as a well-marked route takes you up the mountain, with many signposts to guide you. Although the hike to Little Adam's Peak from Ella town is quite simple, the views from the summit are spectacular.